Back
Chairman Chris Alf talks about National Fleet expansion plans with Journalist Kurt Hofmann (Aviation Week)
By: Kurt Hofmann, Correspondent for ATW (Washington) and Aero International (Hamburg)

Orlando: 20th Dec'21: National Air Cargo is looking to more than double and even triple its fleet of freighters to capitalize on the growth of air cargo, National Air Cargo Holdings Chairman and CEO Chris Alf has told me recently.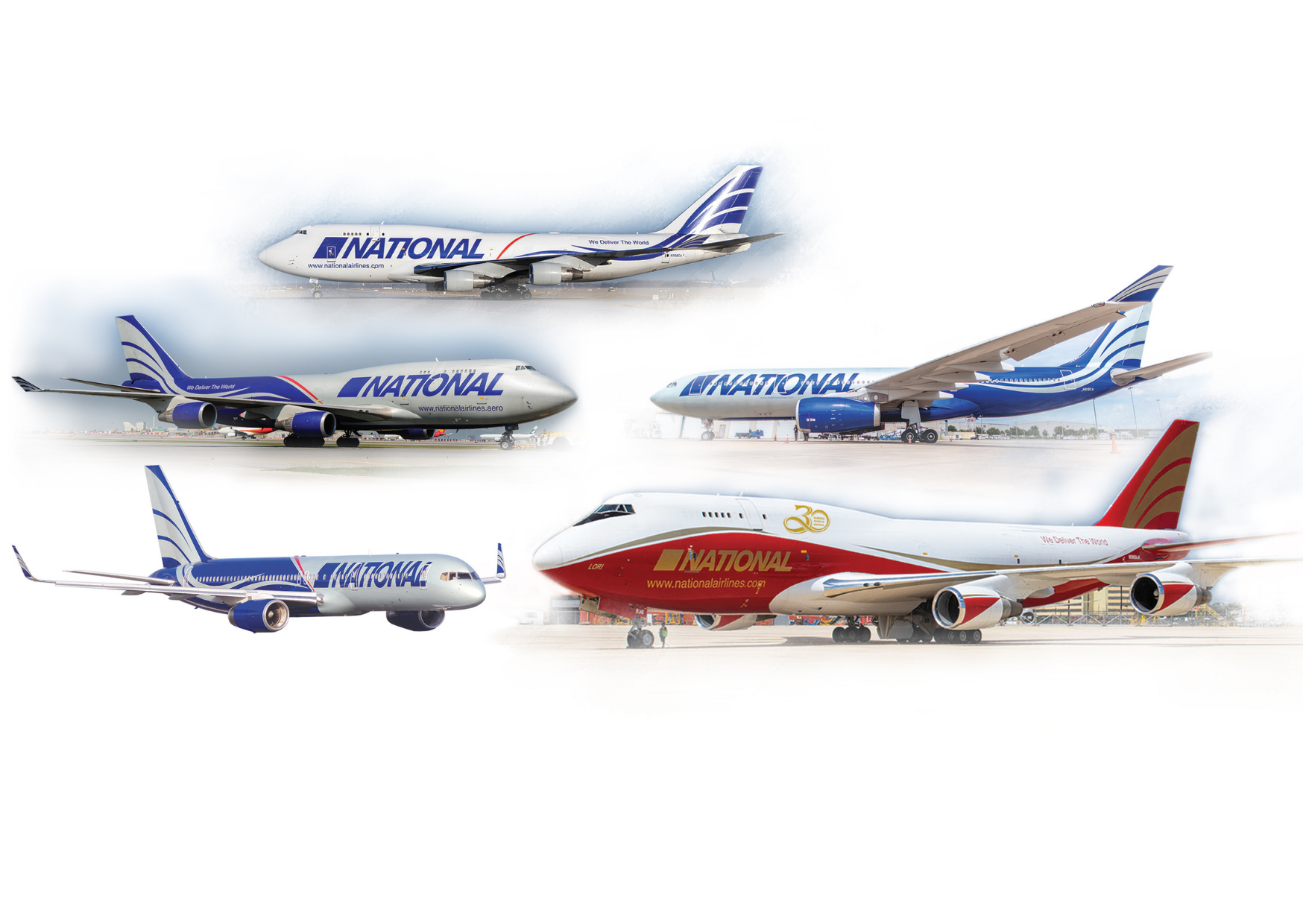 National is studying the recently launched Airbus A350F and Boeing 777-300 passenger-to-freighter conversion, but would also be interested in 747 freighters should they become available, Alf said. "Sixty percent of worldwide cargo is transported in the belly area of passenger aircraft—this cannot be underscored enough. Without this capacity, which is not flying, the demand remains huge," Alf explained in an interview.

Headquartered in Orlando, Florida, National operates six Boeing 747-400
BCFs (Boeing Converted Freighters) as well as two passenger aircrafts: one
Boeing 757and one Airbus A330. In my conversation with Alf, it turned out
soon, that Chris is a big fan of the 747 Freighter. Especially in terms of
the aircraft performance.

"We are always looking for more aircraft, particularly 747 freighters. You
hear about so many aircraft parked in the desert, but there are no 747Fs
available. People are hanging on to that aircraft," he noted.

National is looking at the market and hopes to add "some additional
aircraft next year, no matter which kind of 747 freighter it is," he
said. The carrier could add at least 10 more 747s. "We could more than
double the fleet. Absolutely no question," Alf said. "That demonstrates
how much we believe in this aircraft." The only thing that could
potentially hurt the 747 would be a steep rise in fuel prices, he said.

Alf describes the 747 BCF performance as "fantastic," adding: "Maybe 15 to
20% of all our [747] flights take off with full payload, the majority of
flights are volume cargo. There are very few cargo [items] which require
nose-loading, maybe one flight out of a hundred."

Alf said the life expectancy of a 747 is a lot longer than people think.
The aircraft was built for 35,000 cycles and 160,000 flying hours. "You
can fly up to that point. Most of the 747 world fleet has less than half
that time and easy going for 10 more years in service, even the oldest
one," he said. The fact that many passenger 747s are grounded also means
spare parts for the type are more readily available.

Getting Airbus Experience
"But we are also looking to the Airbus A330-300 [converted] freighters,"
Alf said. Within the next six months, two more A330 passenger aircraft
should join National's fleet. "So we get easy on the passenger side with
the Airbus family. That is also the reason why we operate a A330 passenger
aircraft: to get experience with Airbus Then we can easily operate the
freighters, we could also add six of those A330Fs."

As the chairman see no problem operating a mixed fleet of A330Fs and 747Fs
in the near future, he also has an eye on the next generation of
freighters: the Airbus A350F and the 777XF. "Both are great aircraft,
nothing wrong with them. But they are very expensive," he said, noting
that it terms of engine overhaul cost the 747 was many times cheaper.

"None of this stuff [the 777XF and A350F] is coming along any time soon,"
he added. On the A350F, which looks set to come to market first, Alf says
that since it is a new aircraft—which will have to get
type-certificated—timings could easily slip in terms of availability. "I
would like to perhaps have some preliminary discussions with Airbus about
getting some A350Fs down the road," he said.

Regarding 777-300 passenger-to-freighter conversions, he acknowledged that
National is a little late to the party as a lot of the early conversion
slots have been secured by other airlines, but there is an interest there.

Moving on to the 747-8F, Alf said the aircraft offers fantastic fuel burn,
but the engines are extremely expensive to overhaul and the whole aircraft
itself is a significantly pricier proposition than other 747s. "There are
some Saudi aircraft available on the market, but they would need quite
some work to get them back in shape," he said.

Flag Air Carrier
National is one of only a handful of privately held Part 121 International
U.S. Flag Air Carriers. That means National is able to have global Open
Sky traffic rights for both passenger and cargo operations to more than
100 countries. But more importantly, National gets slots in places where
it is difficult for rivals to secure them, such as at Shanghai Pudong
(PVG). "This gives us great opportunities, because they look at us the
same as China Eastern or China Southern. We are in the same category," Alf
said. As a scheduled carrier, it can offer extra sectors, particularly in
Shanghai.
Alf believes the boom in air cargo will definitely go on for one or two
more years. It is not slowing down as more and more customers turn to air
freight and e-commerce is booming. "It can only grow," he said. National
currently has requests for three times more than the capacity it is able
to operate with its existing fleet, he added.

National also flies cargo for the U.S. Army. This accounts for about 20%
of its business.

Asked how many aircraft National could operate in the future, Alf said "15
to 20 freighter aircraft would be no problem" for the carrier. "If we can
get the aircraft, we can operate them. We have the capability, the
resources, the infrastructure," Alf said

Twitter: @HofmannAviation
Instagram: hofmann_aviation
Linkedin: Kurt Hofmann Aviation Editor